SPIGEN Ultra Hybrid Samsung Galaxy S6 Edge Metal Slate Case
The exclusive SPIGEN SGP thin Fit case offers unparalleled comfort and elegance. made of premium polycarbonate material, scratch and break resistant. the case perfectly protects your phone against drops and scratches.
ORYGINALNE ETUI SPIGEN SGP
ULTRA HYBRID
do SAMSUNG GALAXY S6 EDGE
Etui Ultra Hybrid Series do Samsung Galaxy S6 Edge to oczywisty wybór do ochrony twojego Galaxy S6 Edge. Jako jedyne w swej klasie prawdziwe jednoelementowe skrzyżowanie jest idealną kombinacją ramki i etui o pełnej obudowie. Dzięki zastosowanemu materiałowi TPU - elastyczna a przy tym mocna ramka bezpiecznie okala nasze urządzenie, zapewniając najlepszą ochronę i pewność uchwytu, jednocześnie zachowując wyjątkowy, smukły, minimalistyczny wygląd Samsung Galaxy S6 Edge. 
Etui wzbogacone jest o technologię poduszek powietrznych w narożnikach dla jeszcze lepszej ochrony przy ewentualnym upadku.
Nowoczesny wykrój przycisków głośności oraz włączania, zintegrowany z ramką i dopracowany w każdym calu wraz z wytłoczonymi oznakowaniami – gwarantuje wysoki poziom wrażeń estetycznych całości. Transparentny panel tylny w pełni chroni urządzenie a jednocześnie podkreśla wyjątkowy wygląd modelu Galaxy S6 Edge.
- Przezroczysty, mocny tylny panel +elastyczna matowa ramka = podwójna ochrona
- Nowy projekt ramki z zabezpieczeniem tylnej części
- Zaawansowania technologia amortyzująca wstrząsy
- Ochronna, matowa ramka wykonana z TPU oraz poliwęglanu zapewniająca podwójną ochronę
- smukłe, lekkie – idealnie dopasowane do modelu telefonu, zaprojektowane z myślą o każdym detalu tak, aby podkreślać oryginalny design urządzenia.
- narożniki z technologią "poduszki powietrznej" chroniącą przy upadku urządzenia
- Ramka z 1 mm krawędzią wysuniętą ponad wyświetlacz - chroni, gdy telefon leży ekranem do dołu.
- kompatybilne z Samsung Galaxy S6 Edge
UWAŻAJ NA TANIE PODRÓBKI!!
U NAS 100% ORYGINALNE AKCESORIA !
GWARANCJA PRODUCENTA!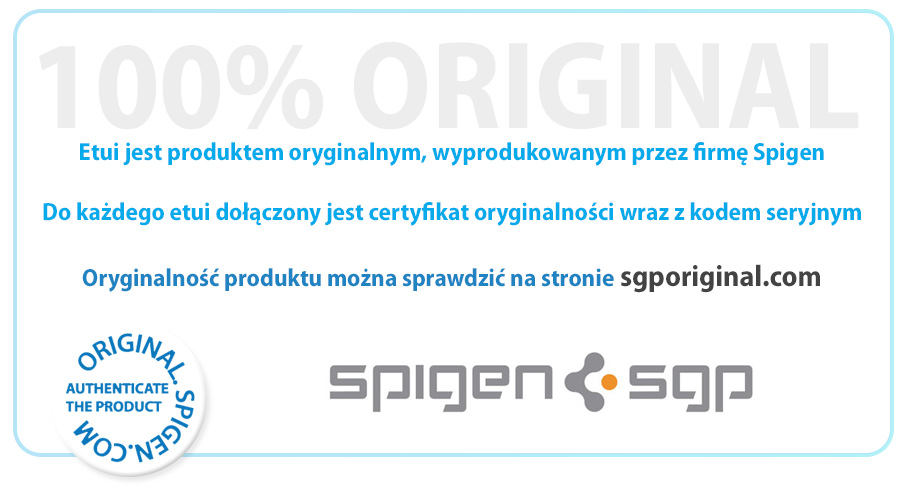 Etui jest w 100% oryginalne, zabezpieczone plombą oraz hologramem, 
posiada numer seryjny który możesz sprawdzić na stronie 
www.sgporiginal.com
Kupując na naszych aukcjach masz pewność, że:
Otrzymasz w 100% ORYGINALNY i sprawdzony produkt.

Kupujesz u sprzedawcy zgodnego ze standardami Allegro co obiecuje: Dobry kontakt ze sprzedającym, zgodność przedmiotu z opisem, szybki czas realizacji zamówienia, niskie koszty wysyłki.

Towar zostanie wysłany po zaksięgowaniu wpłaty lub złożenia zamówienia (pobranie) w ciągu 48H.

Otrzymasz dowód zakupu w postaci paragonu lub faktury VAT 23% będący podstawa do realizacji gwarancji producenta( w nienaruszonym stanie)

Możliwość odbioru osobistego w naszym sklepie oraz punkcie odbioru
Możesz zwrócić towar (w stanie nienaruszonym) w ciągu 14 dni bez podania przyczyny więc kupujesz bezpieczenie ! :)
Długość towaru w centymetrach
Szerokość towaru w centymetrach
Wysokość towaru w centymetrach